Mark Ketchum's
East Bay Crossing Page
---
---
East Bay Crossing Bridge Replacement Project
I was retained by Caltrans in the summer of 1996 as part of a panel to develop a design for a bridge to replace the 60-year-old East Bay Crossing of the San Francisco - Oakland Bay Bridge. The existing structure was damaged in the 1989 earthquake, and the purpose of the studies was to determine whether to retrofit or replace it.
The existing East Bay Crossing is a double deck steel truss bridge:

We evaluated fourteen different alternatives for how to handle the seismic deficiencies of the Bay Bridge. They included retrofit, 3 Caltrans replacement alternatives, and 10 of our own replacement alternatives. We used 11 different criteria (with various relative weights). They included Construction costs, Projected maintenance costs, Total time requirements for Project Development and Construction, Seismic performance, Traffic operations during construction, Traffic operations of the finished project, Constructability, Environmental impacts, Aesthetics, Public acceptance, and Removal/disposal of existing bridge. Seismic performance was weighted heavies, costs and time were weighted next, then the rest. Only on public acceptance and removal/disposal did replacement lose out in comparison.

The rendering below was prepared by Caltrans, based on our drawings and reports.

New East Bay Crossing
---
Since our studies were completed, the Governor has embraced the replacement over the retrofit alternative. There have been public hearings, design controversies, and a consultant selection procedure to select the bridge designer. This was all layed out in our Value Analysis findings.

There have been some evolutionary changes to the "preferred solution" that makes it slightly different from our proposal. But in essence, our ideas and proposals have stood the tests of time and public scrutiny.

The current preferred design makes use of a self-anchored suspension span in place of our originally proposed cable-stayed span. This alternative was prepared by Weidlinger Associates (Engineer) and Don MacDonald (Architect). It was selected by the Metropolitan Transportation Commission's (MTC) Engineering Design Advisory Panel (EDAP) in a split vote. This model was prepared by MacDonald to promote the alternative: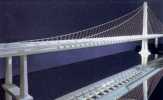 East Bay Suspension Alternative
---
More to come . . .

---
Check out the Metropolitan Transportation Commission's East Bay Crossing Replacement Web Site
---
---
This page has taken

hits.
---