West Bay Crossing
Seismic Evaluation
---
---
The West Bay Crossing
These back-to-back suspension bridges across San Francisco Bay were built in 1936. Today, they carry more than 250,000 vehicles per day.
---
OPAC evaluated the two-mile-long tandem suspension bridge West Bay Crossing for Caltrans, to determine seismic vulnerability and retrofitting requirements. The scope of work included the following components:
Criteria development.
Establishment of load and deformation criteria for determining vulnerability.
Foundation modeling.
Soil-Structure Interaction modeling of foundations to determine properties and demands.
Global demand modeling.
Dynamic 3-d modeling to capture global and regional response in an extreme event.
Local capacity modeling.
Computer and manual evaluation of load and deformation capacities of components.
Response analysis.
Response spectrum and multi-component time history, linear and nonlinear analyses.
Vulnerability evaluation.
Estimation of vulnerability based on component capacities, demands, and behavior.
Retrofit concepts.
Identification of structural concepts for retrofitting the bridge to the new higher standard.
Final design of retrofitting measures is now underway by Caltrans.
---
Download a Zipped .Avi file [375K] showing the predicted motions in the middle 20 seconds of the Richter-Magnitude 8+ "maximum credible" event.
---
Visit the Caltrans Bay Bridge Web Site.
---
Read a technical paper (1,079 KB), by Mark Ketchum & Fletcher Waggoner, presented at the National Seismic Conference on Bridges and Highways, San Diego, California, Dec. 10-13 1995. This is in Adobe Acrobat (.pdf) portable document format - get the Adobe viewer here if you don't already have it.
---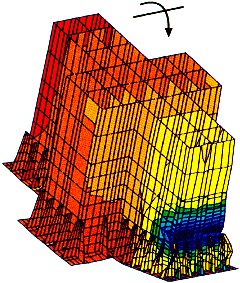 Key Staff Experience:
Kwong M. Cheng served as Principal-in-Charge.
Mark A. Ketchum served as Project Manager and Lead Investigator with overall project responsibility.
Francis Drouillard served as Senior Engineer.
Fletcher Waggoner served as Project Engineer.
Key Project Issues:
Linear and nonlinear seismic analysis of a major long-span double-deck bridge structure.
Development of vulnerability and retrofit criteria for an existing major structure.
Assessment of structural response considering incoherent seismic wave field and soil-structure interaction
Coordination of multiple subconsultants.
---
Client: California Department of Transportation, Sacramento, California.
Date: Study completed in 1994.
Fee: U.S. $500,000
---
---
This page has taken

hits.
---